Angela Merkel and her husband Joachim Sauer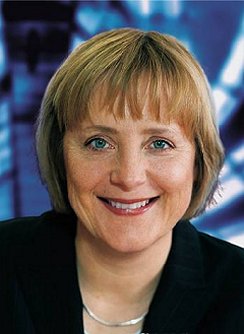 Angela Dorothea Merkel
(
born 17 July 1954) is the current
Chancellor of Germany
(since 22 November 2005)
.
Merkel was born Angela Dorothea Kasner in Hamburg, West Germany, the daughter of Horst Kasner (6 August 1926 in Berlin-Pankow – 2 September 2011), a Lutheran pastor, and his wife, Herlind (born 8 July 1928 in Danzig/Gdańsk, as Herlind Jentzsch), a teacher of Englishand Latin. Her mother was once a member of the Social Democratic Party of Germany.Her grandparents on her mother's side, one of them being Masurian, lived in Elbing/Elbląg in East Prussia. Merkel stated that she is one quarter Polish in an interview with Der Spiegel in 2000.She has a brother, Marcus (born 7 July 1957), and a sister, Irene (born 19 August 1964).
Merkel's father studied theology in Heidelberg and, afterwards, in Hamburg. In 1954 her father received a pastorate at the church in Quitzow (near Perleberg in Brandenburg), which then was in Communist East Germany, and the family moved to Templin. Thus Merkel grew up in the countryside 80 km (50 mi) north of Berlin. Gerd Langguth, a former senior member of Merkel's Christian Democratic Union, states in his book that the family's ability to travel freely from East to West Germany during the following years, as well as their possession of two automobiles, leads to the conclusion that Merkel's father had a "sympathetic" relationship with the communist regime, since such freedom and perquisites for a Christian pastor and his family would have been otherwise impossible in East Germany.
In 1977, Angela Kasner married physics student Ulrich Merkel. The marriage ended in divorce in 1982. Her second and current husband is quantum chemist and professor Joachim Sauer, who has largely remained out of the media spotlight. They first met in 1981,became partners later and married privately on 30 December 1998.She has no children, but Sauer has two adult sons from a previous marriage.
Today we can see that people see Angela Merkel as" Tough Lady"