Whitney Houston's mother says she doesn't blame the singer's ex-husband Bobby Brown for introducing her daughter to drugs.
The late singer died in February 2011 of accidental drowning in a hotel bathtub, caused by heart disease and cocaine use, and while her former husband has been widely blamed for first bringing drugs into her life, Cissy Houston doesn't believe her death was his fault.
Writing in her book Remembering Whitney, Cissy explained: "I think Bobby was Nippy's [Whitney] rebellion. Around him, she didn't have to be the perfect girl . Yet I don't blame Bobby for introducing her to drugs."
Cissy tried numerous times to make Whitney quit drugs and details one attempt in 2000 when Whitney refused to go to rehab.
She said: "She started pleading for us not to send her to rehab. 'Mommy', she said, 'Please, I can take care of it. Just come stay at my house and you can look after me and I'll quit.'
"I let her talk me into it. But that house was so big that she would just lock herself up somewhere and not come out and because I couldn't force her to stop I eventually just moved home."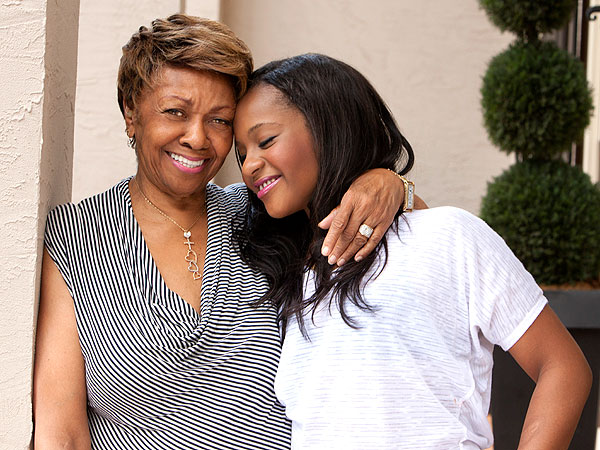 s the one year anniversary approaches of her daughter

Whitney Houston's death on Feb. 11, 2012

, Cissy Houston reveals for the first time how difficult it's been for her granddaughter, Bobbi Kristina Brown.




"She's not handling it good," says the matriarch. "None of us are."




"Of course I worry about her," adds Houston. "Bobbi Kristina is 19 and if you know anything about a 19-year-old, they think they know it all. It doesn't mean that she is going to follow her [mother's] same path. She could but anybody could. I don't want to jinx her. I'm trying to make sure she doesn't."




Houston, who's written a very candid account of her daughter's troubled life

Remembering Whitney

(Harper Collins) due out Jan. 28, admits that her daughter brought Bobbi Kristina along with her to rehab in 2005 for part of her treatment.



"I think Nippy (the family's nickname for Whitney) wanted her to understand what she was struggling with," she writes. "She wanted to explain it to her, maybe so Krissi wouldn't wander down the same path herself when her time came."




Still, Houston doesn't hear from her granddaughter as often as she'd like.




"She's a typical young girl," she says. "Nobody calls their grandmother. [But] I'm here if she needs anything."




As for her granddaughter's future as a

reality TV star

, she's fine with it, if it makes her happy.




"I think she'd make a really good actress," Houston says with a smile. "Singer, I don't know..