Greek riot police stormed the Athens subway train depot early Friday to enforce a government emergency order forcing striking metro workers back to work in an escalating standoff over new austerity measures.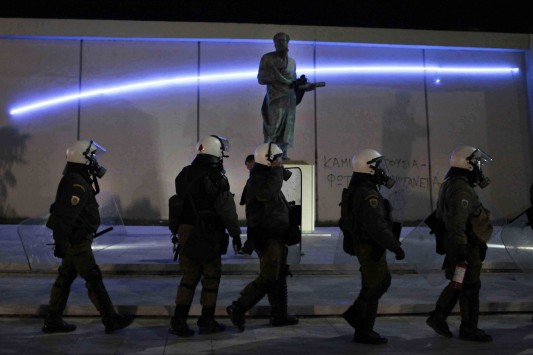 Dozens of strikers had barricaded themselves in the depot in western Athens late Thursday, after the government issued a rare civil mobilization order under which workers refusing to return to work risk dismissal, arrest and jail time.
Metro staff have been outraged by plans to scrap their existing contracts as part of a broader reform to public sector pay, with their union saying the measure would subject them to a roughly 25 percent pay cut.
Hammered by a financial crisis since late 2009, Greece has imposed repeated rounds of public sector salary and pension cuts in return for billions of euros in international rescue loans. The measures have led to a deep recession, now in its sixth year, and unemployment spiraling above 26 percent.
Police broke through the gates and removed dozens of strikers in the pre-dawn raid, while rows of riot police blocked off roads leading to the depot to prevent hundreds of strike supporters who had begun gathering from getting to the facility.
The government's decision to issue a civil mobilization order led to a swift backlash, with all other public transport workers declaring immediate strikes that left commuters stranded and forced to walk or take taxis home through traffic-clogged streets Thursday.
No buses, trams or trolleys were expected to operate Friday. It was unclear whether the police operation would lead to the subway system working on Friday.
Unions and the radical left main opposition Syriza party accused the government of using dictatorial tactics to end the strike.
Greece's civil mobilization law, amended in 2007 to deal with "peacetime emergencies," has now been used nine times since the 1974 collapse of a military dictatorship in Greece - three of those in the past two years in strikes related to austerity measures imposed in return for international bailouts.
"The government is dressed in kahki. It's a new coup against this country's constitution to mobilize working people on strike on the subway with military-style methods to try and break their struggle" Syriza lawmaker Dimitris Stratoulis, said late Thursday. "The aim of the government is to scrap collective wage bargaining rights for a China-style reform of labor rights for workers in the private and public sector."
Considered an extreme measure, use of the law tends to spark an outcry but does tend to end a strike. It has been used in the past to end a protracted strike by garbage collectors, with the government at the time citing public health concerns, and to end a fuel truck strike that had caused major gasoline shortages.
Late on Thursday, Finance Minister Yiannis Stournaras ruled out any softening of the pay reform.
"In some public corporations, workers with elementary education are paid more than university professors," he said. "Nobody wants that sort of situation."
The strike has been met with a mixture of understanding and exasperation from commuters, many of who are in a similar situation and are suffering cuts to their own income. Strikes in general are so widespread and frequent in Greece that they have become part of everyday life.
The Greek capital's metro opened in 2000 and serves more than 700,000 passengers daily, covering 52 kilometers (32 miles) with 34 stations. It operates alongside an older network, bringing the capital's combined daily subway traffic to 1.1 million passengers, according to data from the operators.
Nearly 40 percent of Greece's 10.8 million inhabitants live in greater Athens.