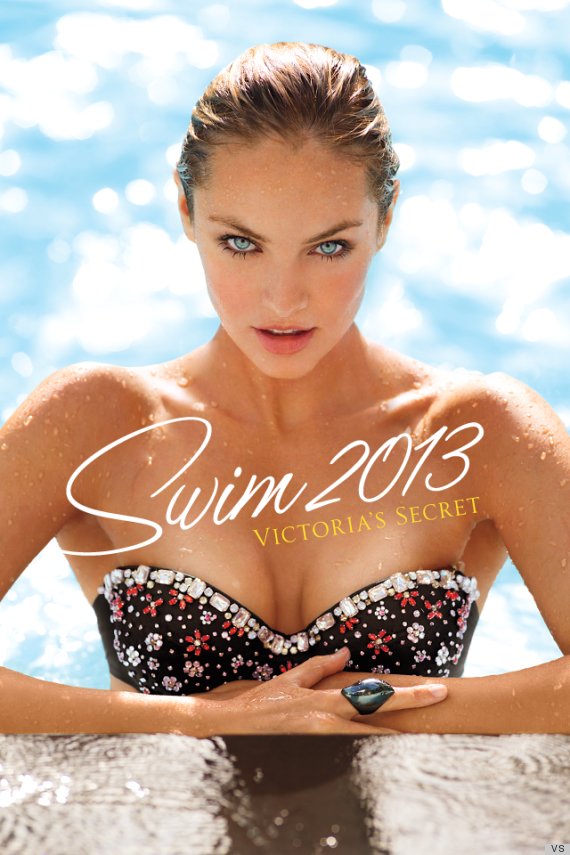 We had almost forgotten about it with all the cold weather, but the annual Victoria's Secret Swim Catalog is upon us already. The catalog, celebrating its sixteenth year, is kind of like the Sports Illustrated Swimsuit Issue in that it highlights one lucky model every year on the coveted cover.
This year the Swim cover model is Candice Swanepoel, everyone's favorite South African Victoria's Secret Angel. The blonde also scored the Swim cover in 2012 and 2011, which seems a little unfair to Behati, Miranda and the rest but we have no say in these things. Candice and the rest of the models (including Karlie Kloss!) posed for the catalog shoot in Turks and Caicos and Miami, snapped by photographer Russell James.
Victoria's Secret posted the cover photo on Facebook this week, stating simply, "The sexiest swim season ever starts now…. Swim 2013. In homes now." If only the warm weather and cute swimsuits were in our homes right now, too.
"It was such an honor to be picked for the cover … It is such an iconic catalogue. Before I was a model, I used to see Gisele Bündchen, Tyra Banks and all of those iconic women on it. It is amazing that a little South African girl can get on the cover", Swanepoel tells People.
Russell James took some photograph of stunning models at Miami beach. "Victoria's Secret is like a big family. The swim shoots are always really fun, and I love being on the beach. I can't really complain [about my job] — I feel very lucky!" African beauty said while expressing her feelings about this honor.
Victoria Secret will be releasing a few videos in the Angels & Artists series.