Three people confirmed dead in shooting at suburban Baltimore Mall in Columbia, including suspected gunman.
Authorities said that three people were found dead at the Mall in Columbia outside of Baltimore, Md., including the suspected shooter, who police said likely acted alone. Police have identified the two fatal victims as Brianna Benlolo, 21, of College Park, Md. and Tyler Johnson, 25, of Ellicott City, Md. Police have yet to identify the shooter. A report indicates the shooter was Benlolo's ex-boyfriend and Johnson and Benlolo were engaged.

A gunman fatally shot two people at a shopping mall in suburban Baltimore before taking his own life, authorities said Saturday.
Howard County (Md.) Police issued a statement late Saturday saying that they had tentatively identified the gunman at the Mall in Columbia, but were not releasing a name because investigators were still following up on leads. The statement also said that police had found two "crude devices" that appeared to be attempts at improvised explosives. Both devices were disabled.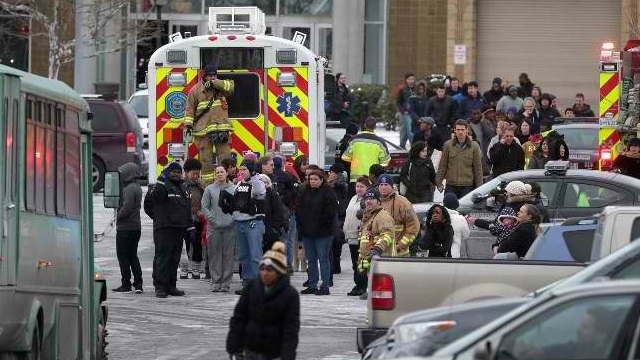 Police said the gunman killed two employees of a skate shop called Zumiez on the upper level of the mall, which is located in a suburb of both Baltimore and Washington, before turning the gun on himself.
The victims were later identified as Brianna Benlolo, 21, and Tyler Johnson, 25. Police said it wasn't clear if the shooter and victims knew each other.
Benlolo's grandfather, John Feins, told the Associated Press in a telephone interview from Florida that his granddaughter had a 2-year-old son and that the job at Zumiez was her first since she went back to work after her son's birth.
"She was all excited because she was the manager there," he said.
He said he had spoken with his daughter, Brianna's mother, earlier in the day, but didn't know who the gunman was or whether the person knew his granddaughter.
"It's senseless. It's totally, totally senseless," he said.
He described his daughter's family as a military family that had moved frequently and had been in Colorado before moving to Maryland about two years ago. He said his granddaughter was on good terms with her son's father, and they shared custody.
"I mean what can you say? You go to work and make a dollar and you got some idiot coming in and blowing people away," he said.
Zumiez CEO Rick Brooks released a statement that the company is making counseling available for employees in the area.
"The Zumiez team is a tight knit community and all of our hearts go out to Brianna and Tyler's families," he wrote.
Howard County General Hospital said in a statement they were also treating five patients related to the shooting, but did not provide details on their condition. The hospital said one patient was a woman who suffered a gunshot wound to the foot, and all five were later released. Police later said the woman was standing on the mall's lower level when she was struck by a bullet.
Howard County Police Chief William J. McMahon said police are confident that there was only one shooter, and have not confirmed a possible motive.
The mall was closed to the public as police went store to store looking for people who might still be hiding. Authorities said the mall would remain closed Sunday and searches with dogs were planned to take place throughout the evening. Police were also allowing shoppers to retrieve vehicles left in the mall parking lot while the stores were evacuated.
Law enforcement sources told Fox News that a robot was inside the mall searching for explosives, and police were preparing to fly in an explosives dog from Ocean City.
The mall typically opens at 10 a.m. on Saturdays and was busy with shoppers and employees when shots rang out before noon. A 911 call was placed at around 11:15 a.m. to report a shooting.
Joan Harding of Elkridge, Md., was shopping with her husband, David, for a tiara for their granddaughter's 18th birthday. She said she heard something heavy falling, followed by gunshots and people running.
"My husband said, 'Get down!' and the girl that worked in the store said, 'Get in the back,' " Harding said. That is where they hid until police gave the all-clear.
Witnesses said they heard a succession of gunshots fired near the food court on the first floor of the mall. Police later confirmed the shooting occurred on the upper level in a skate shop called Zumiez.
People were directed out of the mall and into a parking lot, where some boarded a bus and others walked toward their cars. Some people were seen crying. McMahon said detectives were interviewing witnesses as they emerged from the mall to try to get a better picture of the events that had unfolded.
Tonya Broughton of Silver Spring, Md., was with a friend getting facials for a 'girls morning out,' she said. "The only thing I heard was all the people running and screaming and saying, "There's a shooter! There's a shooter!'" she said.
Wearing a gel face mask, she and her friend hunkered down in a Victoria's Secret store.
Laura McKinzles of Columbia works at a kiosk in the mall. She said she heard between eight and 10 gunshots, followed by people running and screaming. She ran into the backroom of a perfume store and locked the door.
The Maryland mall is at the center of the town, a suburb of both Baltimore and Washington.