Mila Kunis shows off her 'baby bump' and all but confirms pregnancy at MTV Movie Awards.

The Jupiter Ascending actress, who skipped the red carpet earlier this evening, showed off her greatest curve when she took the stage in an adorable little black dress to accept the award for Best Villain.
"Listen you guys. You just made my 12-year-old self's dream come true," Kunis told the crowd. "This is by the far the coolest award and I just realized I was the only woman nominated, and I won.

Delicately resting her hand on her stomach, is this is the moment Mila Kunis all but confirms rumours she's pregnant?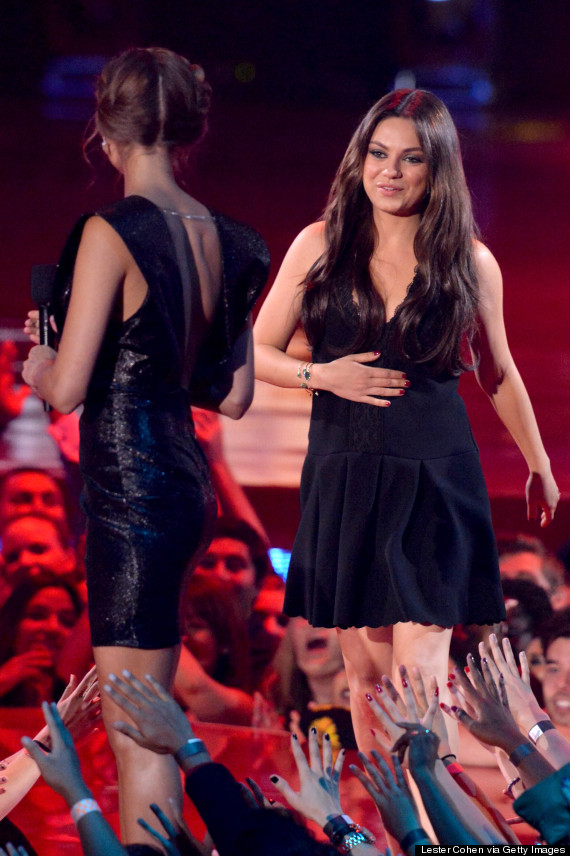 The actress - who has previously been named the Sexiest Women Alive - made her potential baby bump debut at the MTV Movie Awards in Los Angeles.
She skipped the red carpet earlier in the evening but showed off her brand new curve in a stylish LBD.
Kunis was nominated for her role as Theodora, the Wicked Witch of the West, in Disney'sOz the Great and Powerful. The 30-year-old actress was the sole female in the running, going up against fellow nominees Barkhad Abdi (Captain Phillips), BenedictCumberbatch (Star Trek Into Darkness), Michael Fassbender (12 Years a Slave) andDonald Sutherland (The Hunger Games: Catching Fire).
This isn't the first time Kunis has been nominated for an MTV Movie Award.
In 2011, she was up for Best Kiss with her Black Swan co-star Natalie Portman; they lost to Robert Pattinson and Kristen Stewart from The Twilight Saga: Eclipse. Kunis earned her second nomination in that category in 2013 with her Ted co-star Mark Wahlberg; they lost to Jennifer Lawrence and Bradley Cooper from Silver Linings Playbook. Kunis also earned a Best Female Performance nod for her role as Lori Collins in Ted.

While neither Mila or

fiancé Ashton Kutcher

have commented on their wedding or baby

news
, it's widely reports the engaged couple are expecting their first child together.