Teen Mom's Farrah Abraham rang in 2013 at Disney World in Orlando, Florida, she seemed keen to show off the results of her extensive plastic surgery.
The 21-year-old single mother went under the knife in October to have her chin and nose altered - costing a reported $16,000 - and prior to that had forked out $5,000 for a breast enlargement.
She went from a petite A cup to a busty C cup in a bid to make her feel 'more confident', she said.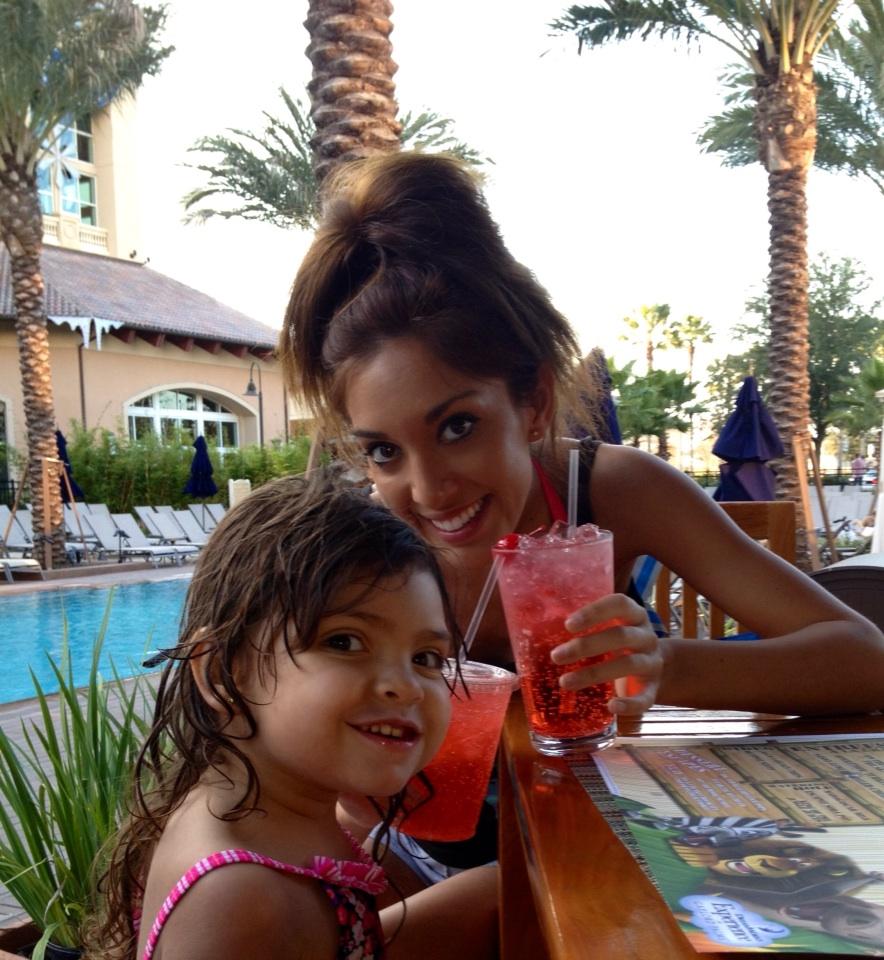 Whatever the reasons behind her surgical alterations, Farrah was happy to show off her body as she larked about in the pool with her three-year-old daughter Sophia.
The reality TV star wore a mismatched bikini - a cerise push up top and animal print bottoms.
She spent New Year's Eve with Sophia and her family at the resort and wrote on her Sulia page: 'I read Disney World is one of the best places if not the best to be for NYE firework show.
'That's where my family is almost every year, so this year you can find us there and in the best of the best spots for fireworks!'
Afterwards she wrote: 'I LOVE TODAY!!!!" You have no idea! I feel NYE is the launch of the most funnest time of my life every year, I feel like I'm being spontaneous in a way.'
Farrah starred in the original MTV reality show 16 & Pregnant in 2009, then it's spin off Teen Mom.
She released the single On My Own and Finally Getting Up From Rock Bottom - as well as a memoir, My Teenage Dream Ended, which reached the New York Times bestseller list.
Farrah has also recently written a children's book entitled Passy Perfume, about a little girl's journey to give up her pacifier with the promise of perfume when she kicks her dummy to the curb.
The book, which is released on Tuesday December 11, is another new project for Farrah, who has just moved to Los Angeles to further her dreams of stardom.
She is also finalising a deal for her own MTV spin-off show, explaining that: 'It's going be about me and my life.'
The father of Sophia, Derek Underwood, was tragically killed in a car crash just two months before the little girl was born.