Prince William Joins Jon Bon Jovi and Taylor Swift On Stage To Perform 'Livin' On A Prayer' At The Winter White Gala.
The second in line to the throne mixed with showbusiness royaty at the glittering Winter Whites Gala in aid of youth homelessness charity Centrepoint as his London residence became Dr Zhivago's ice palace for the evening.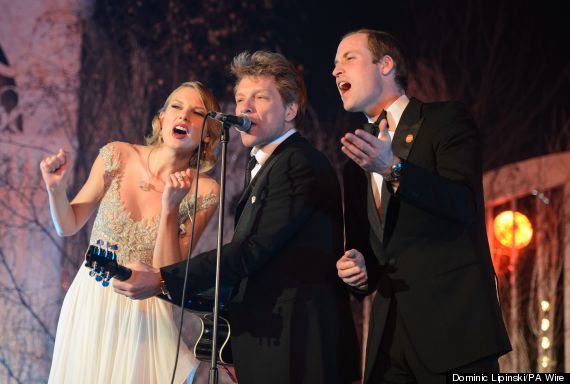 Temperatures plummeted to a chilliy 3C – 37F – as stars and 600 guests walked along a blue carpet into the palace orangerie, which had been lined with fir trees sprinkled with snow, for a lavish dinner followed by a concert raising hundreds of thousands of pounds for the charity.
William, who has been patron of Centrepoint since 2005, welcomed rock star Jon Bon Jovi and county pop princess Taylor Swift to the royal residence where they headlined the first ever live concert at the palace.
Bon Jovi, 51, said meeting William had not been an intimidating experience, as he had already met most of William's family: "I met his father and I met his grandfather. He's still a young kid to me, but a nice young kid," he said.
He added Prince George was the next generation for him to meet: "The baby's next, its all good."
He promised to try to get William up on stage to do a duet of his big hit, Livin' On A Prayer.