Bruno Mars' Super Bowl halftime show spiced by much-needed Chili Peppers
Singer delivered exactly what we thought he would – slick, unmemorable pop, ruffled only by his big, fratty brothers.
Bruno Mars and the Red Hot Chili Peppers'

performance on Sunday night

attracted the largest audience in the history of the Super Bowl, attracting 115.3 million viewers, Fox announced Monday, citing Nielsen data.

That figure surpasses the prior record of 114 million set by Madonna two years ago and the 110.8 million who tuned in to see Beyonce last year.
In a GQ interview last year, Bruno Mars' most lucid moment came when he was asked what the secret to a good song was. He answered: "Hypnotize me in the very first three seconds, wake my ear plate up, give me something that I haven't felt before … and then punch me in the fucking face."
It was an uncharacteristically pithy and astute response. Mars, a former child Elvis impersonator, knows how to write a watertight hit but tends to evince a genial cluelessness about everything else – the world, his place in it, how not to get arrested, etc. His mugshot from last year, following his arrest for cocaine possession, is painfully telling. There's the uncertain smile and vacant gaze of someone who doesn't quite know how he found himself here, but suspects that they must, nonetheless, persist in attempts at ingratiation.
Mars sang "Give it Away" with the Peppers, executed James Brown dance moves and Police riffs and closed with his hit ballad "Just the Way You Are" at halftime of a blowout won by the Seattle Seahawks, 43-8. The game had an average viewing audience of 111.5 million viewers, the largest in history.
The final number was significantly higher than than 98.88 million viewers reported in the overnight ratings from Nielsen that measure the top 56 markets. It initially appeared Super Bowl XLVIII would be the fifth most-watched in history.
The one musician who may well have received the most exposure for new music is Prince, who guest-starred on "New Girl" immediately after the game. The episode, watched by nearly 26 million viewers, included a performance of his new song "PretzelBodyLogic."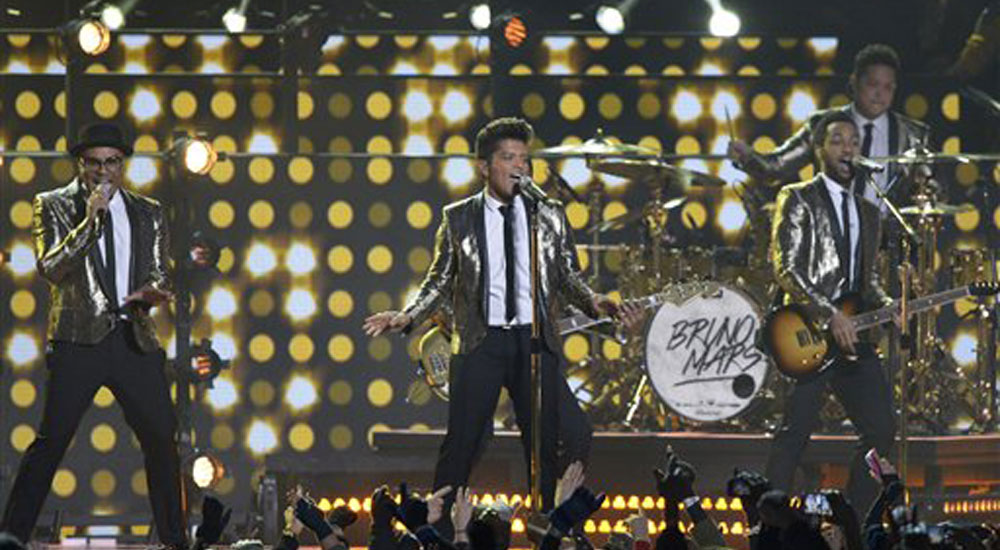 Throughout, Mars' grin was tinged with bewilderment, as though he wasn't quite expecting this, but was going to go along with it and be a good sport anyway. His 12 minutes ended, as everything decreed they must, with, Just The Way You Are, his Grammy-winning, non-biodegradable cornball of a hit about an insecure girl being pretty.
The lack of worldly nous so painfully obvious in that mugshot of his might just be the thing that makes Mars so good at what he does. He was exactly like you – and indeed the anxious, family-friendly organisers of America's most watched television event – thought he would be: perfectly professional, slick as his pompidour and almost as dull as the football himself.